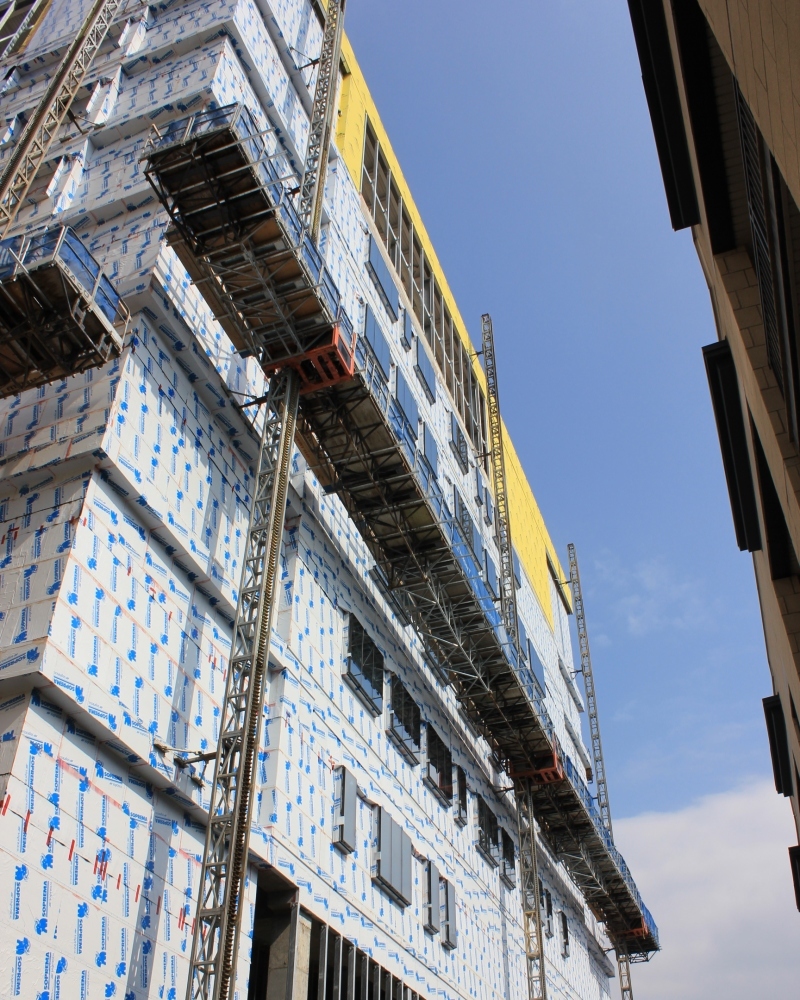 Overview
POWER AND RELIABILITY
The ACT-8 work platform combines safety, ˜lexibility and power. It distinguishes itself by its versatility and represents the best choice for general contractors and those specialized in repointing, glazing, E.I.F.S., metal framing, etc. The ACT-8 is recognized as the solution to vertical access challenges encountered on new building job sites or during restoration or deconstruction projects.
The ACT-8 work platform also provides safe environment for repairs and maintenance of structural works. Whether it is for new construction or rehabilitation, for concrete surface preparation or formworks installation, that mastclimber represents the perfect solution for vertical access to particular structures. No project is too big for the ACT-8. For many years, it has being used for works such as bridge or interchange concrete pilars construction or ˜ixing, for dams repairs, and for smokestack or industrial chimney demolition.
The ACT-8 fully automated system allows a quick lifting and an exact positioning at the desired height.
QUICK INSTALLATION AND OPTIMIZED WORKPLACE
Whether the ACT-8 is mounted on a ground base or a freestanding base equipped with adjustable outriggers, the initial installation and repositioning can be quickly accomplished. Also, the ability to expand the upper work area and install a low floor on the outriggers, allows workers to enjoy a productive and safe environment: the equipment is always at hand. Whether the wall is straight, curved or irregular, the lower work area adapts to all architectural forms.
LARGE AND SAFE WORK AREAS
The ACT-8 offers a large and safe workplace and a heavy payload capacity. It brings new ways to complete heavy works as it can support excavators equipped with hydraulic hammer, crusher or shear and other robots and construction equipment. Its anchoring system allows stability of the platform and does not interfere with its displacement. Productivity is guaranteed.
Technical data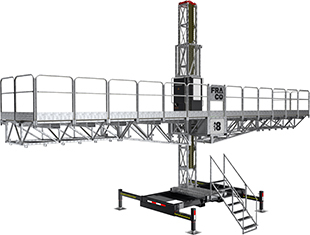 Maximum length of platform w/ single mast (double)
17,3 m (36,2 m)
Maximum payload (single mast configuration)
3 630 kg / mast
Lifting speed
0 - 11,9 m / min
Maximum width of upper step working area
1,78 m + 1,5 m
Maximum width of lower step working area
1,5 m
Maximum height (on ground base and anchors)
168 m
Maximum height (on freestanding universal base)
13,7 m
Standard distance between anchors
9,1 m
Lifting system
Hydraulic with endless screw drive mechanism
Type of engine
24 H.P. gasoline honda engine (electrical and diesel also available)
Motorized unit dimensions (l x w x h) / weight
1,04 m x 1,75 m x 2,18 m / 1 185 kg
Universal freestanding base dimensions (l x w) / weight
3,78 m x 3,94 m / 975 kg
Mast section dimensions (l x w x h) / weight
0,5 m x 0,5 m x 1,49 m / 155 kg
Your needs
We use ingenuity to create customized solutions.
Request a quote