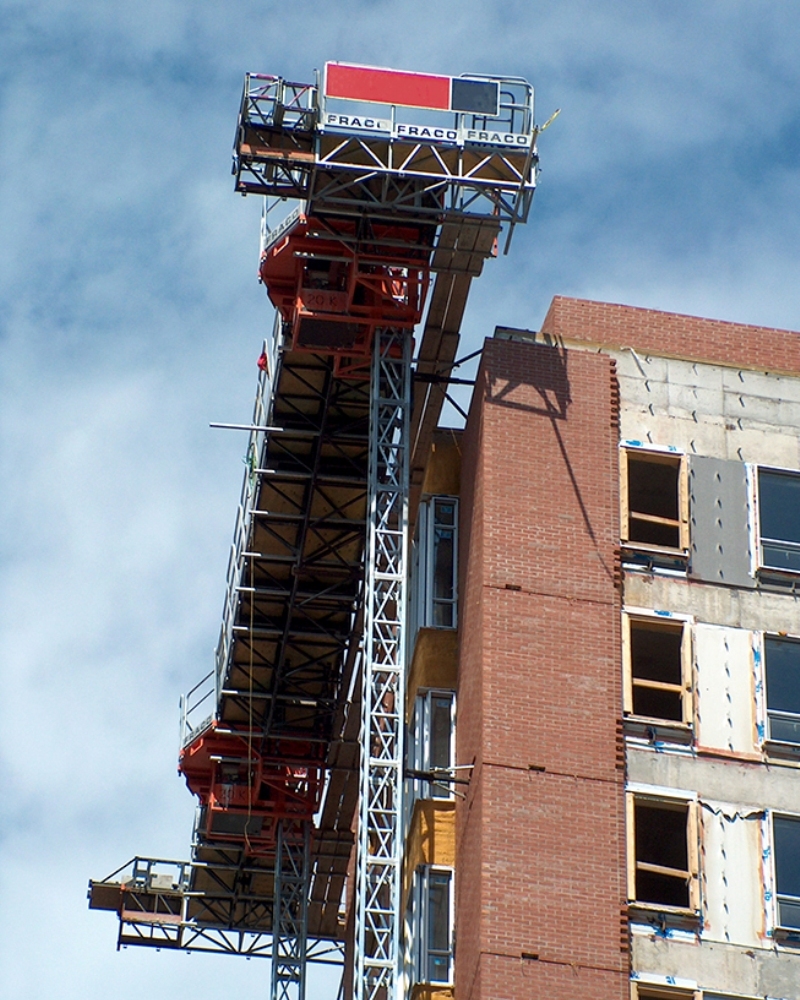 Overview
POWER AND FLEXIBILITY
The The FRSM-20K work platform combines safety, sturdiness and capacity for mid- to large-size job sites. Used with one or two masts, this system of cantilevers and bridges allows users to bene˜it from over 130 different configurations. The FRSM-20K is perfect for masonry projects below 80 feet (25 meters) in height, but it also distinguishes itself when comfort, safety and performance in high altitude are required. Its ratchet drive mechanism calls for minimum maintenance and gives the FRSM-20K all the power required.
BUILT FOR MASONS BY MASONS
With the 127 feet x 45 feet (38,7 meters x 13,7 meters) freestanding set-up, only 2 hours are necessary to move 5 715 square foot (530 square meter) of workable area from point A to B. This can be done with few picks under regular jobsite conditions by using an 8 000 pounds (3 630 kilograms) payload forklift. This set-up is also ideal for masons as it offers a payload of 150 pounds (68 kilograms) per linear foot and an even distribution of material, which greatly improves efficiency and productivity.
Technical data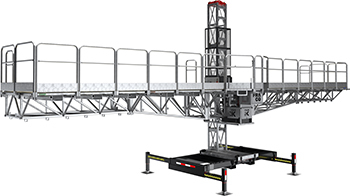 Maximum length of platform w/ single mast (double)
14,5 m (38,7 m)
Maximum payload (single mast configuration)
4 535 kg / mast
Lifting speed
0 to 2,2 m / min
Maximum width of upper step working area
1,78 m + 1,5 m
Maximum width of lower step working area
1,5 m
Maximum height (on ground base and anchors)
168 m
Maximum height (on freestanding universal base)
13,7 m
Standard distance between anchors
9,1 m
Lifting system
Hydraulic ratchet drive mechanism
Type of engine
13 H.P. gasoline honda engine (electrical and diesel also available)
Motorized unit dimensions (l x w x h) / weight
2,3 m x 2,3 m x 1,6 m / 1 340 kg
Universal freestanding base dimensions (l x w) / weight
3,78 m x 3,94 m / 975 kg
Mast section dimensions (l x w x h) / weight
0,5 m x 0,5 m x 1,49 m / 115 kg
Your needs
We use ingenuity to create customized solutions.
Request a quote